Car Insurance for Nissan
Buy new policy
Renew existing LGI policy
Did not find what you were looking for? Request callback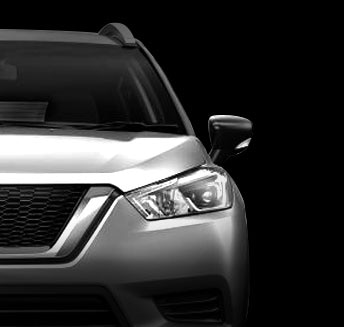 About Nissan
A popular Japanese brand, Nissan has done quite well for itself in India with budget vehicles such as the Micra, as well as high-end ones such as the GTR.
Nissan's journey in India began in 2005, when it set up an establishment in Chennai. This plant was responsible for manufacturing the iconic Nissan hatchbacks, sedans, SUVs, and MUVs.
Together with Renault, its global partner, Nissan set up a manufacturing plant and an R&D centre near Chennai. Nissan in India incorporates two brand names- Nissan and Datsun.
If you're buying a Nissan car, you will also want to look at a comprehensive car insurance policy that suits your requirements.
Why choose Liberty General Insurance for Nissan?
Hassle-free paperwork
91% claim settlement ratio (2018-19)
97+ offices all over India
4,300+ partner garages in India
Top Nissan cars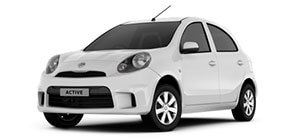 Micra
The Nissan Micra is an immensely popular hatchback in India, available in 4 variants. The 5-seater Micra comes in automatic or manual transmission alternatives. Starting at Rs.6.66 lakhs, the Micra comes with climate control, rain-sensing wipers in its tool of features. The interiors are spacious and makes for a good family car. It is available in 6 colour variants ranging from classic black and whites to vibrant reds. It offers an economical mileage of up to 23.19 kmpl.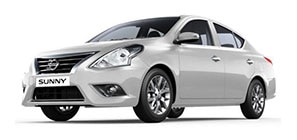 Sunny
Known as Nissan Versa in other parts of the world, the Nissan Sunny is a 5-seater sedan starting at Rs.7.07 lakhs. It is a comfortable car offering excellent leg room for the rear passengers, and a captivating beige and black leather upholstery. The mid-sized sedan has petrol and diesel options, and automatic and manual transmission modes. It is powered by a 1461cc or 1498cc engine, based on the variant.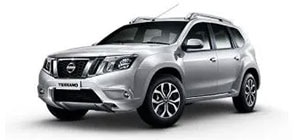 Terrano
Starting at Rs.9.99 lakhs, the Terrano is available in four variants- XE, XL, XL (O) and XV Premium. The 7" touchscreen controls major functions of the car including the navigation system. The Terrano comes with Cruise control which makes driving on open highways a pleasure. The ground clearance of 205mm helps the Terrano cross the many hurdles on Indian roads easy. It is a 5-seater compact SUV with a mileage of up to 19.87 kmpl, and availability is in manual and automatic transmission.
Key Features

Hassle-free inspection
At Liberty General Insurance, we ensure that you have a seamless experience

Claim Settlement
Enjoy Hassle-free settlement with
Liberty General Insurance

Ease of Endorsement
Incorporate amendments in
your existing policy

Additional Protection Cover
Check our list of add-on policies
for your car

Daily Customer Service
Call us from 8 am to 8 pm,
7 days a week

Cashless Garages
Find the nearest garage through
our garage locator
Types of car insurance
Ensure complete protection of your Nissan in case of future accidents with an Liberty General Insurance car insurance policy.

Own Damage for Vehicle
If your Nissan car is caught in a natural disaster such as earthquake or lightning, is stolen, or gets into any kind of accident, the Own Damage cover will compensate you for any expenses that you may incur while repairing the vehicle.
What does own damage to car insurance not cover?
Damages to a third party vehicle (If you want coverage for both - own as well as third party damages then buy comprehensive Car insurance)
Damage caused to a third-party property
Injuries caused to other people in an accident
Normal wear-and-tear of the vehicle
Mechanical and electrical breakdown
A vehicle being used other than in accordance with the limitations as to use. For example, if you use your Private car for commercial purposes
Damage to/by person driving without a valid driving license
Loss or damage caused while riding under the influence of alcohol or any other intoxicating substance
Consequential loss

Third party Insurance
The 2 types of third-party coverage include- Disability, death, injury, etc. covers the costs incurred due to an accident caused by your Nissan car. The second coverage is for any property damage costs incurred from damages or loss of property caused by your insured Nissan car.

Add-on covers
Get further coverage for your Nissan four-wheeler with add-on covers such as Passenger Assist, Key loss, Engine safe and others. However, it's advised that you read the policy wordings carefully before choosing the add-on policy best suited for you.
What are the types of car insurance available for my Nissan car?


Can I find a suitable car insurance policy for my Nissan car online?


How often do I need to renew my car insurance policy?


What is No Claim Bonus?


Registration Number: 150 | ARN:Advt/2018/March/26 | CIN: U66000MH2010PLC209656
2019 Liberty General Insurance Ltd.
Reg Office: 10th floor, Tower A, Peninsula Business Park, Ganpat Rao Kadam Marg, Lower Parel, Mumbai - 400013
Trade Logo displayed above belongs to Liberty Mutual and used by the Liberty General Insurance Limited under license. For more details on risk factors, terms & conditions please read sales brochure carefully before concluding a sale.