Car Insurance for Ford
Buy new policy
Renew existing LGI policy
Did not find what you were looking for? Request callback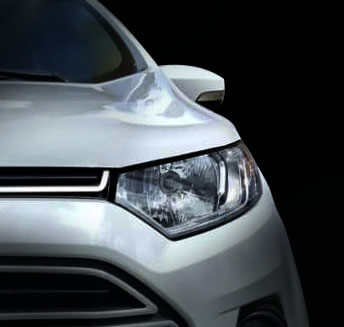 About Ford
Ford is the second largest American automobile manufacturer in the world, founded by Henry Ford in 1903, in Detroit. In India, the brand launched in the late 1990s with the Ford Escort, and the Ford Icon that were big hits during their time. Now, of course, we have models such as the Ford Aspire, Ford Figo, Ford EcoSport, the Ford Mustang, and the Ford Endeavour.
Ford continues to grow its legacy of more than a century, with an increasing customer base with newer and more innovative product offerings. It is aggressively continuing the expansion of its nationwide dealership network as well as remarkable after-sales offerings.
Ford's popularity in India has grown over the years, and people look at Ford as an investment. However, with an investment like a Ford, it's only sensible to get a comprehensive car insurance policy.
Why choose Liberty General Insurance for Ford?
Hassle-free paperwork
91% claim settlement ratio (2018-19)
97+ offices all over India
4,300+ partner garages in India
Top Ford cars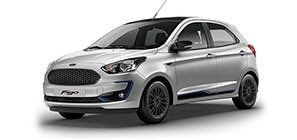 Figo
A popular hatchback on Indian roads, the Ford Figo starts at Rs.5.23 lakhs. The 5-seater is available in automatic or manual transmission modes, as well as petrol or diesel options. It has a fuel tank capacity of 42 litres, and mileage of up to 25.5 kmpl. It has the best-in-class safety comprising of 6 airbags which is not found in most hatchbacks of this price category.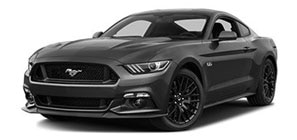 Mustang
Ford's impressive offering to the race car genre, the Ford Mustang starts at Rs.74.62 lakhs. The 4951cc robust V8 engine drives the 4-seater car. It is automatic, boasts of a uniquely elegant exterior, and personifies the Ford luxury.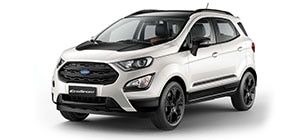 EcoSport
The EcoSport impresses with both, its looks and specifications. Coming with a starting price tag of Rs.7.91, the EcoSport is a 5-seater compact SUV available in multiple diesel and petrol options. It is also available in a petrol and automatic transmission variant. It offers a mileage of up to 23.0 kmpl, and is powered by a 1498cc engine.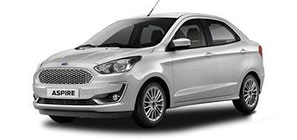 Aspire
The 5-seater sedan starts at Rs.5.98 lakhs. Available in automatic and manual transmission, the Aspire is built keeping in mind safety and comfort. It has side and curtain airbags in case of accidents, and an emergency assist feature which sends out the car's GPS location to emergency first-responders.
Key Features

Hassle-free inspection
At Liberty General Insurance, we ensure that you have a seamless experience

Claim Settlement
Enjoy Hassle-free settlement with
Liberty General Insurance

Ease of Endorsement
Incorporate amendments in
your existing policy

Additional Protection Cover
Check our list of add-on policies
for your car

Daily Customer Service
Call us from 8 am to 8 pm,
7 days a week

Cashless Garages
Find the nearest garage through
our garage locator
Types of car insurance
Safeguard your valuable Ford 4-wheeler with a Liberty General Insurance policy and ensure your peace of mind every time your Ford is taken for a drive.

Own Damage for Vehicle
Own Damage (OD) Vehicle insurance helps you stay covered against damage caused to your vehicle due to accidents like fire, theft, etc. In case of an accident, OD cover compensates you for the expenses to repair or replace parts of your car that may have been damaged in the accident.
What own damage to vehicle insurance does not cover for your car
Damages to a third party vehicle (If you want coverage for both - own as well as third party damages then buy comprehensive Car insurance)
Damage caused to a third-party property
Injuries caused to other people in an accident
Normal wear-and-tear of the vehicle
Mechanical and electrical breakdown
A vehicle being used other than in accordance with the limitations as to use. For example, if you use your Private car for commercial purposes
Damage to/by person driving without a valid driving license
Loss or damage caused while riding under the influence of alcohol or any other intoxicating substance
Consequential loss

Third party Insurance
Third party insurance policy is a statutory requirement as per the Motor Vehicles Act, 1988, and driving without a third-party insurance policy for a private car in a public place is an offence punishable by law.

Add-on covers
Besides this, LGI offers a number of add-on car insurance policies that you can buy to ensure that your Ford gets the best treatment in a garage. Some of these add-on features Some of the add-on covers include depreciation cover, passenger assist, consumable cover, engine safe cover, GAP value cover, key loss cover, and roadside assistance cover.
What are the benefits of purchasing my Ford car insurance online?


Should I buy third-party or comprehensive car insurance?


What are the factors that influence the premium for a car insurance policy?


What is No Claim Bonus or NCB in four wheeler insurance?


Registration Number: 150 | ARN:Advt/2018/March/26 | CIN: U66000MH2010PLC209656
2019 Liberty General Insurance Ltd.
Reg Office: 10th floor, Tower A, Peninsula Business Park, Ganpat Rao Kadam Marg, Lower Parel, Mumbai - 400013
Trade Logo displayed above belongs to Liberty Mutual and used by the Liberty General Insurance Limited under license. For more details on risk factors, terms & conditions please read sales brochure carefully before concluding a sale.